As the weather turns cooler, we are all in search of cozy, comfort foods. What better excuse to make a hearty (read: carb packed) meal with your family? For years, I have known that Hubs has a soft spot for spaetzle, the Germanic noodle/dumpling. I have heard tales of family lore, making spaetzle for holidays and other special occasions. We even received a spaetzle maker as a Christmas present some years back.
I admit here (with some embarrassment) that it remained wrapped and unused until last Sunday. As you know, I prefer to prepare meals based on nutrient-dense foods, high in protein, complex carbs, vegetables, grains and the like. Spaetzle vehemently does not meet any of these requirements. It is made from a basic dough of flour and water (or milk), and often dressed with butter or gravy. But with inspiration from the NY Times' Melissa Clark, and a devil-may-care attitude about my waistline  (I am in the 3rd trimester of my pregnancy), it was time to make the spaetzle.
We agreed that Hubs would be in charge of the spaetzle preparation. Hubs consulted the Cassellini family cookbook, a collection of recipes from Hubs' maternal grandmother and her family, which has the classic family recipe, actually spelled "knöfli."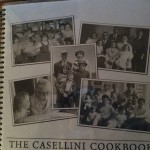 He decided to test Melissa Clark's updated recipe, which used rye flour, in addition to white flour, and also whole milk, in place of water. We thought this would produce a more flavorful noodle. Once the spaetzle were ready, we'd each prepare our own dish using the spaetzle base. I was going to adapt Melissa's recipe, which incorporated cabbage and leeks (vegetables!! yay!) and Hubs would go a more traditional route. Plus, cabbage is rich in fiber, anti-oxidants and anti-inflammatories. We would re-join at the dinner table and sample both for our Sunday night dinner. Keep reading for our recipes
Basic Spaetzle recipe
Adapted from Melissa Clark's Rye Spaetzle recipe
1 teaspoon kosher salt, more as needed
180 grams all-purpose flour (1 1/2 cups)
100 grams rye flour (3/4 cup)
2 large eggs, lightly beaten
1 to 1 1/2 cups whole milk, as needed
Bring a large pot of salted water to a boil. In a large bowl, whisk together the flours and 1 teaspoon salt. In a separate bowl, whisk together the eggs and 1 cup milk. Make a well in the dry ingredients and pour in the wet mixture. Stir with a wooden spoon to combine. The consistency should be that of a sticky cake batter. As the batter sits, it will absorb more liquid; add more milk as needed to keep it loose.
Working in batches, press the spaetzle through a spaetzle maker or a colander into the boiling water. (If using a colander, either hold it with oven mitts so you don't burn yourself over the steaming water, or get a friend to help). As the spaetzle rise to the surface, scoop them out with a slotted spoon and transfer to a bowl.
Toss spaetzle with butter or olive oil and serve as a side dish. Or, choose one of the following preparations.
1/2 batch of  Basic Spaetzle recipe (above)
1 small-medium green cabbage (1 1/2 pound)
3/4 teaspoon whole caraway seeds
4 tablespoons unsalted butter
3 large leeks, thinly sliced (3 cups)
2 garlic cloves, finely chopped
Large pinch chile flakes
1 thyme branch, or 1 teaspoon dried thyme
2 teaspoons apple cider vinegar, or more to taste
1 3/4 teaspoons kosher salt, more as needed
1/2 cup Gruyère or Emmentaler cheese, grated
Ground black pepper
Kosher salt
Preheat the oven to 425 Fahrenheit.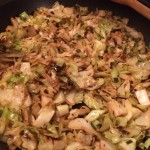 Discard the outer leaves of cabbage; quarter, core and slice the rest. Using a mortar and pestle or the flat of a knife, lightly crush the caraway seeds. Melt the butter in a very large skillet over medium-high heat. Add the leeks and cook, stirring occasionally, until tender and lightly colored, 5 to 10 minutes. Stir in the caraway, garlic, chile and thyme; cook 1 minute. Add the cabbage and cook, tossing frequently, until very tender and wilted, 7 to 10 minutes. Season with vinegar and 3/4 teaspoon salt or more to taste. Remove from heat and cover to keep warm.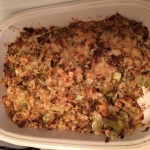 Add the spaetzle to the pan and toss well. Scrape the mixture into a 1 1/2-quart gratin dish. Scatter cheese over the top. Bake until golden and bubbly, 20 to 25 minutes. Grind a generous amount of black pepper all over the top of the gratin, then serve.
YIELD 6 to 8 servings
Classic Spaetzle with Sauteed Shallots
1/2 batch of  Basic Spaetzle recipe (above)
1 shallot, chopped finely
2 tablespoons butter
Black pepper and salt, to taste
Melt butter over medium low heat. Add shallots and saute for 3-4 minutes until slightly colored, but not browned. Add spaetzle and toss to coat. Cook for another 2-3 minutes, and add freshly ground black pepper and salt to taste. Serve and enjoy.
Results
Both recipes tasted delicious. I cannot tell a lie, they really hit the spot for comfort food on a chilly fall night. The cabbage and leek gratin was very tasty. I used about 1/2 the amount of spaetzle called for in the original recipe, so it made for a looser and lighter gratin. It still felt rich and hearty, but not so heavy. Even Hubs admitted it had good flavor. I sampled the classic spaetzle preparation, and admitted it, too, was delicious. The rye flour used in the recipe also gave the noodles more bite and flavor, as suspected. We wholeheartedly recommended the updated recipe to Hubs' family, even if some called it blasphemous.