I know you've all been on the edge of your seats WAITING to hear what I did with the rest of Saturday's bounty. Here it is again: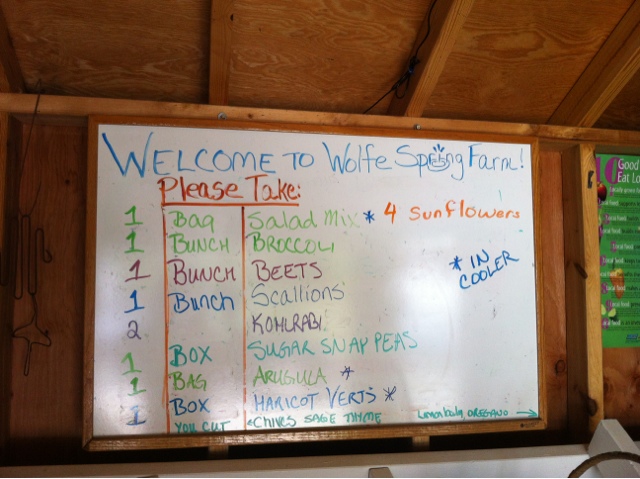 I've already spilled the beans on the 
beets
 (that recipe could not wait), so let's go through the rest of the veggies.
2 Birds with 1 Stone
I felt like a healthy grain-based salad that would mix some of the crunchy veggies and herbs, but would also take a minimal amount of cooking (again, recall beets recipe). I decided to riff on a 
recipe
 from last month's Bon Appetit that I had previously experimented with. The recipe is very flexible – add/subtract veggies based on what you have at home. I've included it below with some of my modifications in italics and also simplified the prep.
Summer Veggie Rice Salad
1 small shallot, chopped
2 tablespoons chopped flat-leaf parsley
2 tablespoons red wine vinegar
2 teaspoons fresh thyme leaves
1/3 cup extra-virgin olive oil, divided
Kosher salt, freshly ground pepper
1/3 cup extra-virgin olive oil
2 cups cooked basmati rice, cooled – I used Brown Basmati rice
2 cups bite-size pieces assorted vegetables (such as radishes, tomatoes, peas, summer squash) or carrot ribbons- I used kohlrabi, peas, scallions, carrots and basil
3/4 cup torn mixed leafy greens, sprouts, and herbs – I used arugula and mixed greens
1/3 cup chopped red, yellow, or white onion or scallions
2 tablespoons toasted pine nuts (optional)
Preparation
Mix first 4 ingredients in a bowl combined; season with salt and pepper. Slowly drizzle in oil and use whisk to mix dressing.
Place remaining ingredients in a large bowl; drizzle with 3 Tbsp. dressing and toss to coat. Pass remaining dressing alongside for drizzling over.
I modified the recipe based on what we picked up from the farm and also a desire to make it more nutritious. I used brown rice in place of white, and heavied up on the veggies, herbs and greens. This was a big hit and enjoyed by all family members and guests (even hubs). This is a great dish for a picnic, or to prepare in advance. We had this for lunch on Sunday.
Back to the List
Ok, so we already covered off on the beets, kohlrabi, sugar snap peas, scallions and greens. That leaves the broccoli, haricot verts and mixed greens. I decided on simple preparation for all 3 as I wanted to showcase the veggies themselves (and I, too, was losing steam).
Broccoli: Simple Asian-style dish. Steamed, then sauteed it with garlic and a dried, hot chili pepper, finishing it off with a dash of sesame oil.
Haricot verts: Sauteed garlic, then quickly stir-fried beans, keeping them green and crisp. Accompaniment for Saturday night dinner. Loved by all
Mixed greens: Used as a simple side salad with mustard vinaigrette for several meals
Oh, and the sunflowers went on the dining table.